The Arctic is warming faster than anywhere else and sea ice is retreating. What does this mean for the UK, the Arctic's nearest neighbour?
Future shipping opportunities
The Arctic is losing sea ice at a dramatic rate and this decline is expected to continue. This is creating opportunities for shorter global trade links between East Asia and the UK, via the Arctic.
Arctic routes are seasonally open most years, although normally icebreaker ships are required and available routes are close to the coast. Currently the Arctic shipping season is short and highly variable with optimum conditions in September and/or October.
Due to climate change, the Arctic shipping season could become three times longer and more reliable, so that by mid-century it will likely be possible to directly cross the North Pole during late summer. During this time, voyages from East Asia to the UK could save 10 to 12 days by using Arctic routes.
However, the extra costs associated with operating in the harsh Arctic environment may detract from their appeal. Considerations such as these, combined with the fact that sea ice will return during the winter months, suggests that trans-Arctic routes may provide a useful supplement to traditional trade routes (via the Suez Canal for example), but they are unlikely to entirely replace them.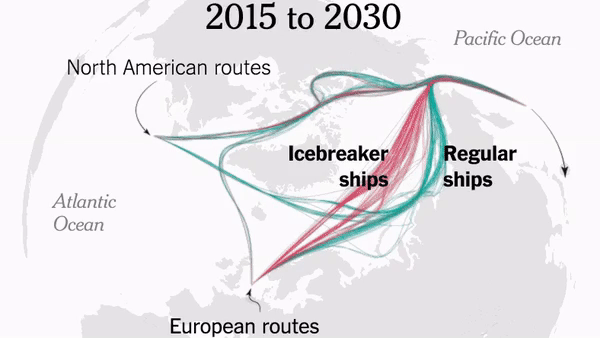 UK interests
Economic growth in the Arctic is focused in four key sectors — mineral resources, fisheries, logistics, and tourism — all of which require shipping, and could generate investment reaching $100bn or more in the Arctic region over the next decade. The UK, looking to enrich its global trading relationships, is well positioned to benefit from an increase in Arctic shipping both directly and indirectly.
Direct opportunities for the UK involve capitalising on the increase in global traffic around our coastlines via the Arctic.
In addition, the UK has a prominent role in Arctic science, and a world leading maritime services industry based in London. Increased Arctic shipping may indirectly increase the utilisation of these sectors.
Finally, the UK's active diplomatic role in many international organisations means it is well-placed to ensure that increased activity in the Arctic is accomplished in line with established UN maritime and environmental conventions, many of which were written with significant UK contributions.
Read our Foresight Future of the sea evidence review to find out more about the opening of Arctic sea routes and the implications for the UK.