The Government Office for Science Futures team highlight findings from a recent set of case studies commissioned from the School of International Futures (SOIF) to understand different foresight features in eight countries across the world.
The report findings have helped to develop a framework for how governments, including the UK, can think about their own foresight capacity. The Government Office for Science Futures team will be using this insight in their work to embed futures and foresight in the UK government, to help create policies and strategies that are robust and respond to long-term change.
To conduct their research, SOIF interviewed foresight practitioners from the UK and from the countries chosen as case studies: Finland, United Arab Emirates, Malaysia, New Zealand, Canada, the Netherlands, the USA and Singapore. They also hosted a round-table to discuss carrying out effective foresight in governments with delegates from around the world involved in futures activities.
Considering foresight as an "ecosystem" that includes the socio-cultural and political context of that nation is critical to ensure lasting integration into policy-making (see Figure 1).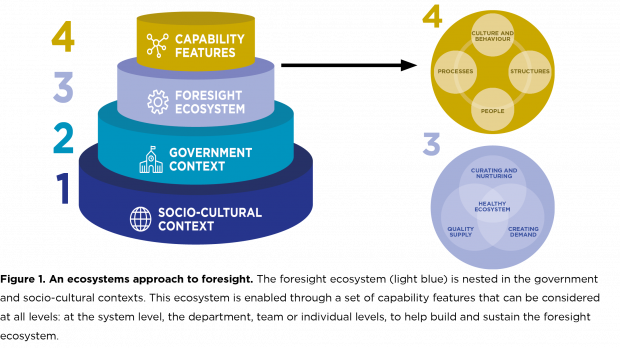 There is a common set of features that have helped countries to build future-oriented, resilient and adaptable foresight ecosystems (see Figure 2). These features are mutually reinforcing ingredients that together provide the type of ongoing, long-term thinking required of today's policy-making. They include culture and behaviours, systems, processes and people.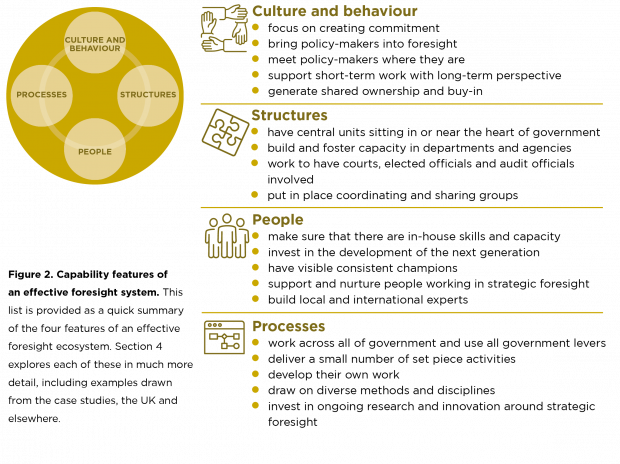 Of course, this will inform our own approach to futures here in GO-Science. Already, we are bolstering our capability development programme to support embedding long-term thinking and support teams in government to carry out this kind of work. This includes widening the reach of our futures training, providing bespoke advice to teams and building a suite of resources to help officials undertake this work. We are also thinking about how to improve long-term thinking in government through a more collaborative and collective approach to foresight. But we want this work to be useful to as many organisations as possible, so we're sharing it here.
Call to action
Are you involved in policy or strategy in UK government and want to find out more about how to ensure your work is more robust to long-term challenges and opportunities? Get in touch with us to find out more about how we can support you by emailing futures@go-science.uk.
If you're interested in finding out more about SOIF's work please contact them on info@soif.org.uk. And if you want to help your organisation think more clearly about the future, look through Figure 2 - do you have all those elements in place?