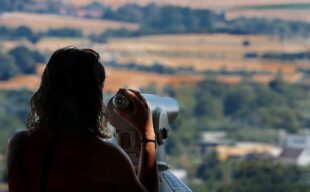 Over the last few years, Government Office for Science (GOS) Futures team have seen an increase in teams from across government seeking advice about setting up new horizon scanning functions.
In response to this, Bethan Morgan, Senior Capability Lead in the GOS Futures team led a workshop for the Heads of Horizon Scanning network to share experiences setting up horizon scanning functions in their organisations. This workshop was attended by over 100 futures practitioners across central government departments, public bodies and the wider public sector. These participants ranged in experience from experts to newcomers in horizon scanning. Participants were split up into smaller groups to discuss their experiences and the main questions they asked themselves while setting up a function.
With thanks to Jagjit Singh, working in GOS on the Summer Diversity Internship Scheme, here are top tips collated from that workshop.

Identify your customers and audience. Ensure you know their expectation and what they will achieve using your outputs. Outputs can add value to existing work by challenging assumptions, exploring emerging issues or giving a longer-term view.
Ensure your stakeholders have a shared understanding of what futures and horizon scanning is.
Decide on your main aims and time horizons.
Find out who is already doing this kind of work in your organisation and talk to existing horizon scanners across government, find connections through GOS or the Heads of Horizon Scanning (HoHS) Knowledge Hub.
Decide on what horizon scanning process you will follow, for example, expert-led, evidence based or mixture of both, and how regularly your outputs will be produced.
Draw on as broad and diverse a range of people as possible. The more insights you can collect from across the organisation the more relevant your scanning outputs will be for your customers.
Think about whether you can link your work with existing governance processes (eg risk management) and if you can tie project deadlines to upcoming opportunities for influence in your organisation.
Help to achieve buy-in from stakeholders and senior sponsors by clearly communicating outputs and their purpose. Identifying tangible actions from your outputs can also help.
Ensure your products have as much impact as possible by engaging with your audience along the process and sharing products with HoHS if possible!
Remember to include an evaluation in your process and ensure learning feeds into future iterations.
Lastly, horizon scanning is a skill. It will take time to develop your scanning abilities and build up the sources of evidence you need. Keep going!

These tips complement and build on Dr John Carney's popular Ten Commandments of Horizon Scanning blog in 2018, which focused on purpose, communication, process, stakeholder engagement and impact.
Have you set up a horizon scanning function in your organisation and have advice you would add to this list? Please let us know by contacting us.