Interest in electric cars dates back as early as the 19th century.  In 1884 inventor Thomas Parker developed and used an electric car for his commute in his hometown of Wolverhampton, and in the 1890s in New York electric taxis were used more widely than internal combustion engines.  Despite this interest, cheaper fossil fuels and availability of refuelling infrastructure meant the internal combustion engine prevailed and went on to shape the 20th century.
Today, new technologies are having an unprecedented impact on society – how and why we are travelling is changing.  Our Future of Mobility project has been exploring the key trends, examining the latest research, and exposing insights for policy makers in order to understand how people and goods are likely to move in the future. The publication of our first set of evidence reviews looks at the history of the transport system, how traditional travel by car, bus, rail and water is changing, and highlights the importance of linking the past with the future.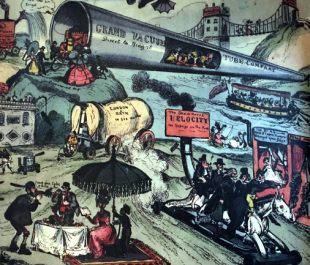 Our historical evidence review reveals the past trends and key events that influenced today's travel, and some of the highlights from this work are described below:
historical perspectives are important, as they can identify long-term trends and common patterns in how we previously travelled and why - they can help to understand why developments have succeeded or failed, and they illustrate how public and private actors have shaped our system
from the decline of horse-drawn carriages to the rise of the car, and from the fall in canal freight to the expansion of the railways, different forms of transport have each followed very different trends
some forms of transport that have seen a decline in the past, have also seen a recovery in the late twentieth century, most notably sea freight and passenger rail - competition and conversely complementary relationships between some forms of transport have also led to some winning, such as car transport and air travel
change in the twentieth century transport, including rising car use, also had unintended consequences, such as congestion, and these have led to concerns over the environment and our health
government has influenced how the transport system has developed, from nationalisation and privatisation, through to the motorways expansion from the late 1950s, and it continues to shape how we travel
by its very nature, the future is uncertain, and difficult to predict - change is happening fast and we have experienced disruptions in recent years but learning from the past can prepare us for the uncertain future
Over the coming weeks the Foresight Future of Mobility project will be publishing further material that explores our fast-changing transport system and you can access our evidence reviews here.